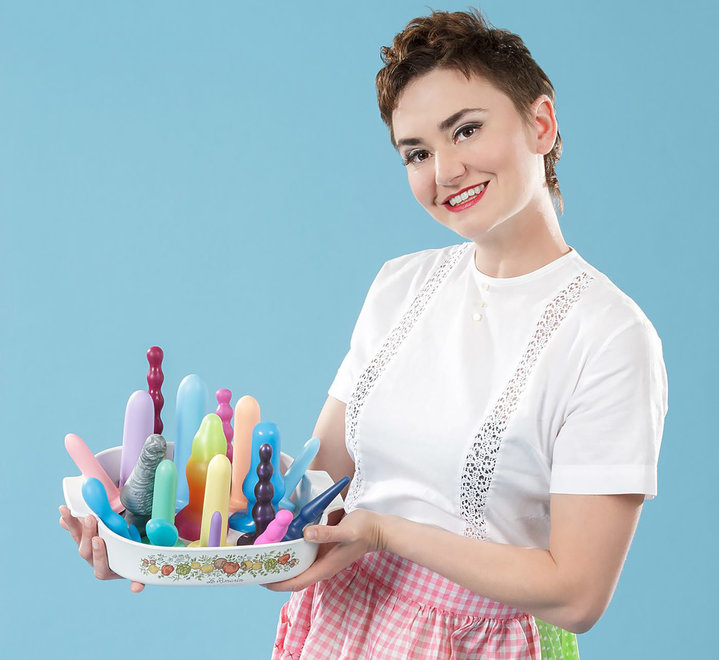 So many dildos, so little time
Silicone. Among the highest quality dildos, many women love silicone for its lifelike feel and ability to retain body heat. Non-porous and easy to clean (dishwasher safe/top rack!), they can last for years. They're mostly hypoallergenic, too. Just watch out for cracks or cuts that may develop that can harbor germs. And since silicone cannot be repaired, be prepared to retire your ol' buddy if he should ever tear.
Latex. You'll find latex rubber dildos everywhere, but they also have their limitations. Not as lifelike and firm as silicone, they still serve their purpose well. Be sure to clean up thoroughly, as latex is porous and can harbor germs. People who like this material, but have allergic reactions to latex, might find pleasure in jelly or silicone dildos.
Jelly. A popular innovation of the nineties, jellies come in a playful array of bright, semi-translucent colors. Jellies are less expensive than most other dildos, a bit more delicate, and porous—so wash them with adult toy cleanser or warm soapy water after each use.
Lifelike. Soft and fleshy, with a feeling of real human skin, these new-generation materials are a true delight. They require extra care to keep clean because of their porous material, but are well worth having in your treasure collection. Also, store them apart from other toys: when left in direct contact, the composition can degrade.
Acrylic. Do you like your dildos HARD? Then a plastic or acrylic dildo is for you. They're easy to clean because they're non-porous, and enable you to reach your G-spot and anal erogenous zones with an abundance of pressure.
Vinyl. Basic, reliable and affordable, what vinyl lacks in flexibility it makes up in durability. Available in just a few colors, including a little pink version ideal for anal play, it's thankfully non-porous and easy to clean.
Glass. At first thought, glass may seem like an odd choice. But wait till you see what's available today! Glass dildos come in a wide variety of vivid colors and creative shapes—some with exotic liquids inside that glow in the dark. Built to last a lifetime by the craftsmen who make glass pipes, they're similar in hardness to acrylics, and designed for both vaginal and anal pleasure. They're hypo-allergenic, non-porous and dishwasher safe—and retain warmth and coolness. They're pricier, but worth every penny.
Metal. A rare find today for experienced toy enthusiasts and collectors. Cool to the touch, metal dildos slowly warm up with use. Be extra careful moving around with a metal toy inside you, as you can bruise your tailbone or pelvic bone with any quick, jarring motions.